I am thrilled and honored to share this interview by the Queen of Soaps, Anne Marie from Bramble Berry with you.
Interview with Bee of Sorcery Soap (a.k.a: The Soap Witch)
Bee of Sorcery Soap (also known as "The Soap Witch") creates amazing products with hand molded details and shapes. She uses her own soap dough recipe to create horses, flowers, birds, books and gnomes (and so much more). Bee shares the techniques on her YouTube channel as well as her soap blog. I'm in awe of each of her projects; they are extremely innovative and push the boundaries of what can be created with cold process soap! Learn more about Bee's journey with soap dough, including her tips on getting started in the interview below. -A.M.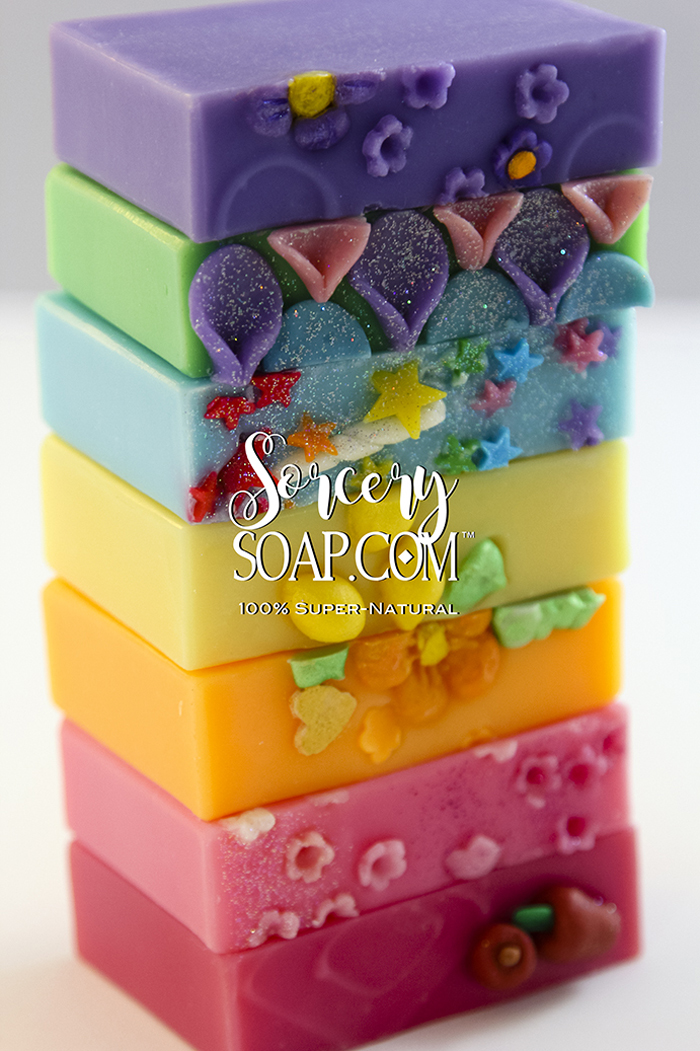 How long have you been soaping for and how did you get started?
The first time I made soap was with Bramble Berry's cold process soap kit on August 24, 2014, to be exact. Anne-Marie's Soap Queen TV fascinated me and I trusted her information. I studied soap for almost a year before I began, and watched every video Anne-Marie offered. The clear instructions in the kit helped to calm any slight apprehensions I had about using lye for the first time. I was so excited and thrilled my hands were shaking.

What sort of advice would you give to those soapers just starting their businesses?
Do not quit. Observe the resistances that arise, observe your thoughts and emotions and move forward. Each step there is something to learn, possibly something so new you are the only one to see it. Stay observant and you won't miss these subtle and important experiences.
One's destination is never a place, but a new way of seeing things. ~ Henry Miller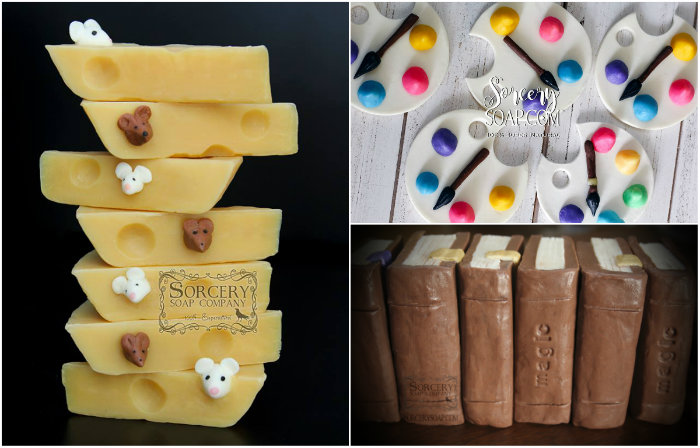 Left to right, clockwise: Bee's Mouse and Cheese Soap, Paint Palette Soap Cookies, Novel Soap
What is your favorite type of product to make?
Cold process soap dough. This is a specific soap recipe that is not allowed to cure until embeds, soap cookies or embellishments are molded and then exposed to the air. If created correctly its the perfect balance of hard and soft butters and oils. Soap dough is smooth and moldable and the consistency is a cross between clay and fondant, and a unique substance that is truly interesting to me. I love the colors, the feeling of it and the endless creative possibilities.

What inspires you to create?
That is an endless list! Everything inspires me. I walk everyday, some days run the mountain I live near, and it clears my head. I like being in a neutral place where the ideas can land clearly. I study cookie decorators, cake decorators, read blogs about soap making, read Amanda Gail's blog, Anne-Marie's posts and anything Bramble Berry posts. Some days inspiration lands when I least expect it so I I write the idea in my soap book and when I feel uninspired I look over those pages. I check off all that I've created, even if I just make the soap once, I keep moving forward.
A question I receive often is "How do you stay inspired?" so I dedicated the undercurrent of my new book to how to get and stay inspired. It is no small task to generate inspiration in the self, because you can't pretend to be inspired. There is a truth in genuine inspiration that is highly attractive. Imagine having tools to create inspiration.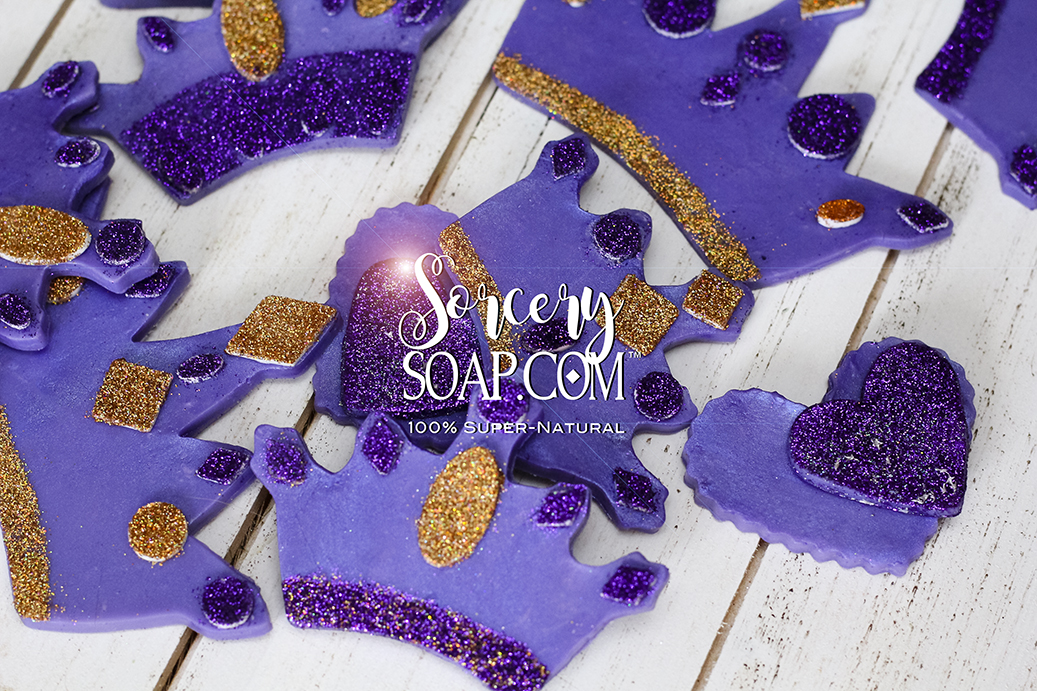 Bee's Queen Crowns Heart Soap Cookies. I love all that beautiful shimmer!
How did you come up with the name for your business?
This question made me smile. I love Game of Thrones, Lord of the Rings, Paulo Coelho, Alice Hoffman… any movie or book written with magical realism. I began by pairing words to convey how I understand soap practice. I collected images of what soaping meant to me and saw the story my efforts told and it became clear.
The only hesitation was what others would think of me about what "Sorcery Soap" might imply. This slight hesitation also prompted the question, "Who do I please first?" I wanted this aspect of my life – soaping – to be fresh and new, so I needed to change some things – my perspective.
The name Sorcery Soap had such a strong appeal I decided to move forward. My friends thought "Soap Witch" suited me too, so much that it made them laugh. It was a good sign. I stuck with Sorcery Soap and adopted Soap Witch as a monicker, because it reminds me that the very moment when this slurry of ingredients come together and make bubbles is still, very much, a mystery. Now we have a little group on Facebook of Soap Witches. People who like the idea of magical, unique and unusual soaps.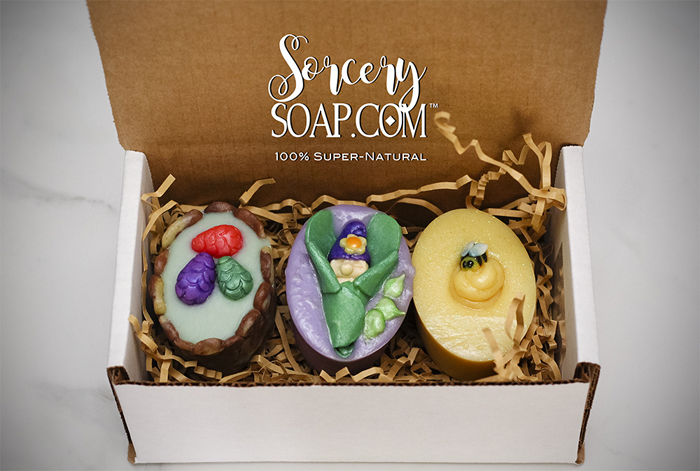 Bee's Enchanted Soap Box, which includes three oval soaps. 
You're known for your intricate and detailed hand molded soap. How did you discover this talent, and what tips do you have for somebody wanting to try sculpted soap?
Curious you should ask. I am in the last stages of editing a book, in part, on this very topic.
I follow a blog about raising chickens. I didn't have a chicken mold, but wondered if I could make a soap that depicted chickens. I made one 4 pound batch with chickens, eggs and soap shavings on top for grass. The writer of the chicken blog inspired me so I shared an image of the soap with her. She posted the photo on her page and the next thing I knew I was making 140 bars of "Chicken Soap." I had been fumbling around before that, and after making many, many chickens and having such a great response from people I didn't know, I let myself dream of all the possibilities of molding soaps.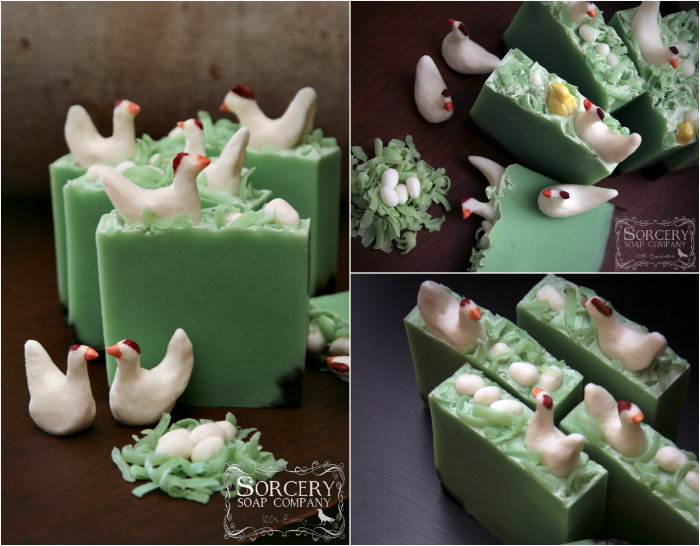 The amazing Chicken Soap that started it all.
That door in my mind was open and there was no closing it! If someone had asked me before if I could sculpt or mold anything I would have had a resounding answer of "no." Was I wrong! If you have the slightest desire to work sans silicone molds, just do it. Play, have fun and allow yourself to be surprised. Start with something simple like a sphere, a ball of soap. It can be a zen practice to make a perfect ball of soap.
If you had to choose your all-time favorite soap you've created, what would it be?
Right now my favorites are the Soap Cookies made with Cold Process Soap Dough. I've only scratched the surface of all the possibilities of this process. Soap cookies offer choices in the bath and at the sink. When the soap cookie gets a little smaller they can be stuck together to make a larger bar, mixing and matching scents and colors.
I love the soap cookies designed to look like wooden flooring. I made brown hearts and pink round ones with flower and leaf accents. I can't seem to keep these in stock and that is perfectly fine with me, since I love to make them. I enjoy the detail of each and how each one is similar, but still unique.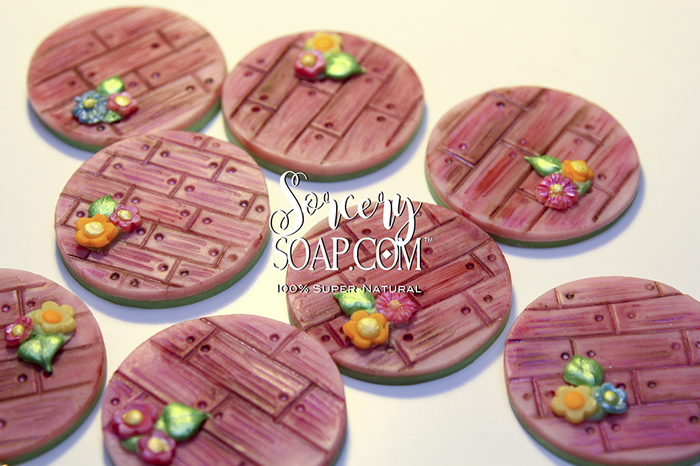 Bee's Pink Wooden Soap Cookies. The flower details are the perfect finishing touch. 
As I said, I love these Wooden Soap Cookies. I also love the stenciled soaps. This is new for me, but one I want to pursue with YouTube videos to show how cold process can be stenciled onto bars of soap for a unique and custom design. I use every bar of soap I make in some form, even if its just a piece, so you can imagine I have many choices in my shower. To narrow it down, I also love Dragon Silk, which is scented with a custom blend I call "Forbidden Forest." I always have at least one bar of Dragon Silk in my shower. I love the idea of a forest in the shower.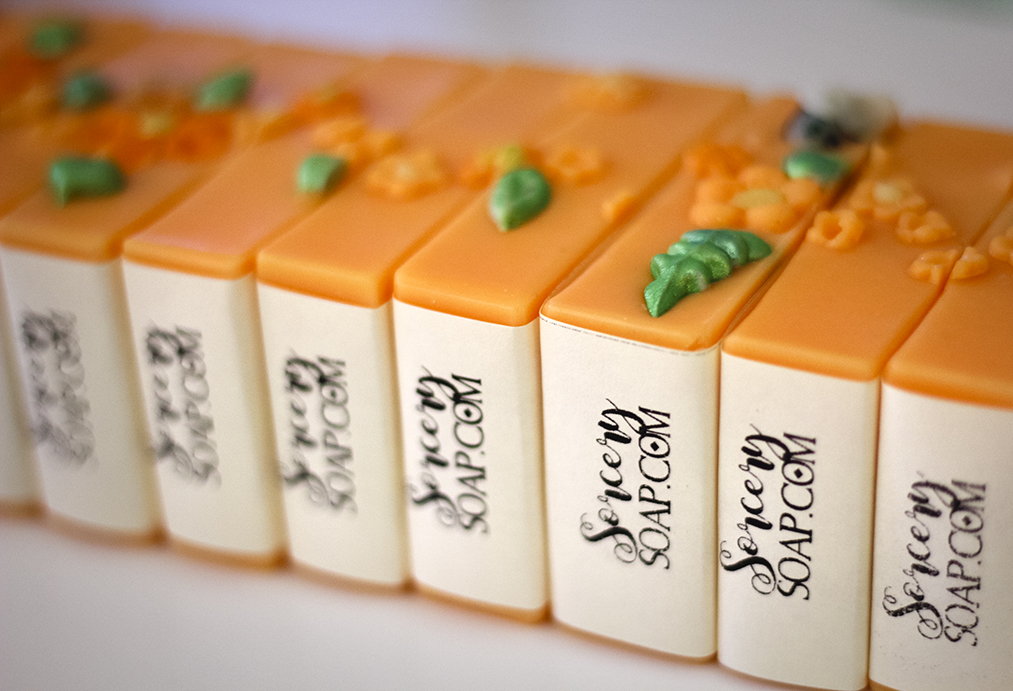 Lovely Apelsin Blossom Soap. The bright orange color is fantastic!
You write a blog, and also have a YouTube channel. What tips do you have for somebody wanting to expand their social media presence? How has it helped your brand/business?
The best suggestion I can offer is be consistent. If you don't get likes or feedback, continue anyway. It all takes time for the search engines and people to find you. Reach out to others, offer support, ask questions and be curious.
I have been using Facebook pages and groups, Pinterest and Instagram to connect, and YouTube to show how I create. Next I'm going to focus more on YouTube. I'm surprised at how many people like to watch soap videos. I have a lot to learn about making videos, since photography as been my main way of connecting.
All these outlets are new. Heck, the internet is new. There is so much to learn about how we connect and interact with each other. I try a lot of things, ask questions and study the process. With so many choices, I found it best to choose a few areas and focus on those.
What is your favorite Bramble Berry product and why?
Oh, hands down, Coconut Lemongrass Fragrance Oil. I keep it in stock. It was one of the first fragrance oils I used, and never lets me down. The scent is unique yet, familiar and highly soothing. Bramble Berry's version of Lemongrass is the best, and I have tried a lemongrass from every company I use. I simply cannot find a better version.
Tell us something unusual or unique about yourself!
I try to go as long as possible without talking. I like to see the world without feeling I have to speak to it. I want my words to count when I do speak. I also had a flock of about 40 ducks who followed me around the golf course. A pair of ducks even found my home and showed up at my doorstep.
I once created a wine pairing list for a French restaurant. I love wine, but rarely drink. I love how its made, the dedication to the grapes, the smell…I also love watching movies about sommeliers or chefs and even the Great British Bake Off. What I take away from those shows is that when you have a love and pay attention to the finest detail, you can create art with anything.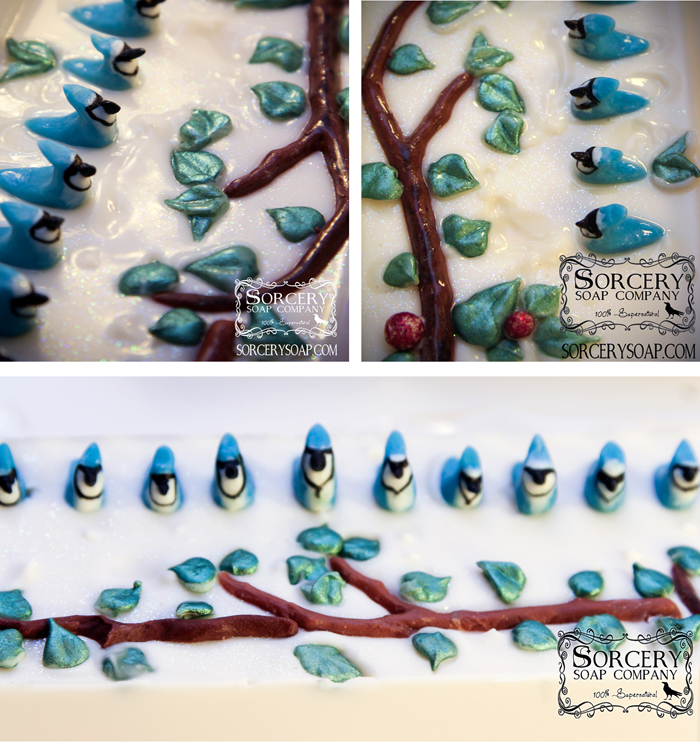 Beautiful Blue Bird Soap with hand molded blue jays.
What are some of your other hobbies and interests?
I love to hike with my partner Jeff and our dog, Truman. One is a golf aficionado, the other a dog professor. This activity takes hours so its a main activity. We are teaching Truman Dutch words. Truman knows many more English words than we know dog, so we thought we'd all learn a new language.
Our new hobby is importing fun and useful things that are hard to get quickly in the U.S. Our last two imports were a custom set of fondant tools and cultivated Mulberry Silk. There was a learning curve and an education and entirely worth it. We are investigating and researching new things all the time.
My other hobby, or endeavor, is writing. Wrapping up my latest book now, "A Sorcery Soap Witch's Enchanted Book of Peculiar Ideas and Soap Potions."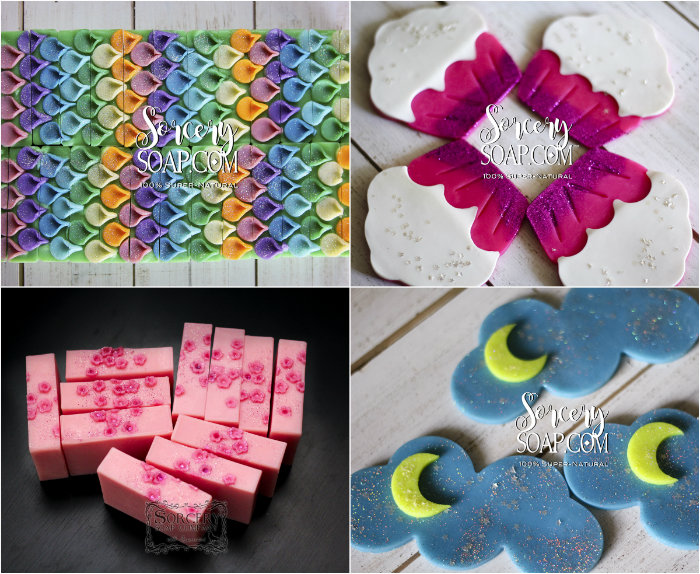 Top left, clockwise: Dragon Silk Soap, Princess Cupcake Soap Cookies, Good Night Moon Soap Cookies, Pink Grapefruit Soap
What is your number one soaping tip?
Exact measurements. Write down the actual ingredients if they vary from the recipe at all. Most things go wonky at the measurement stage. That way if something doesn't turn out like expected you can retrace your steps and know how to make corrections the next time.
Taking deep breaths along the way is also truly helpful.
Have you ever experienced a horrible soapy fail? How did you work through it, and what did you learn?
I have had so many fails, they might outweigh my successes. That is exactly how I discovered my soap dough recipe, through a fail.
Once, I made an entire 4 pound pie with hand molded fruit on top, hand molded crust and it looked great. It smelled terrible. I put it in the farthest reaches of the house and still couldn't get away from the fragrance. I had to toss it out. It was hard, but I can't offer something I don't absolutely love. I imagined giving a piece to a friend, "here, I think this is awful but I want you to have it."
It was a good lesson of the impermanence of all things, even art. No matter what, soap disappears. All things eventually disappear, so I strive to enjoy the moment and use the soap I was saving.
I learned that my soaps don't have to be perfect. They have to have integrity, harmony, but first and foremost, I need to be pleased. My soap also has to do that one thing they were meant to do, clean skin in a balanced way. If they give a bit of joy – bonus!
The best fails I've had, when I just started to make soap, (about 1,500 pounds ago) were those that taught me about soap. Even if it was just one thing like the importance of temperatures. Each batch, even if it was a complete fail where I didn't make soap, I wrote down what I learned and examined that data. This process has also shown me what I think based on the past isn't always correct for assessing the future. Sometimes life can surprise in a wonderful and lovely way.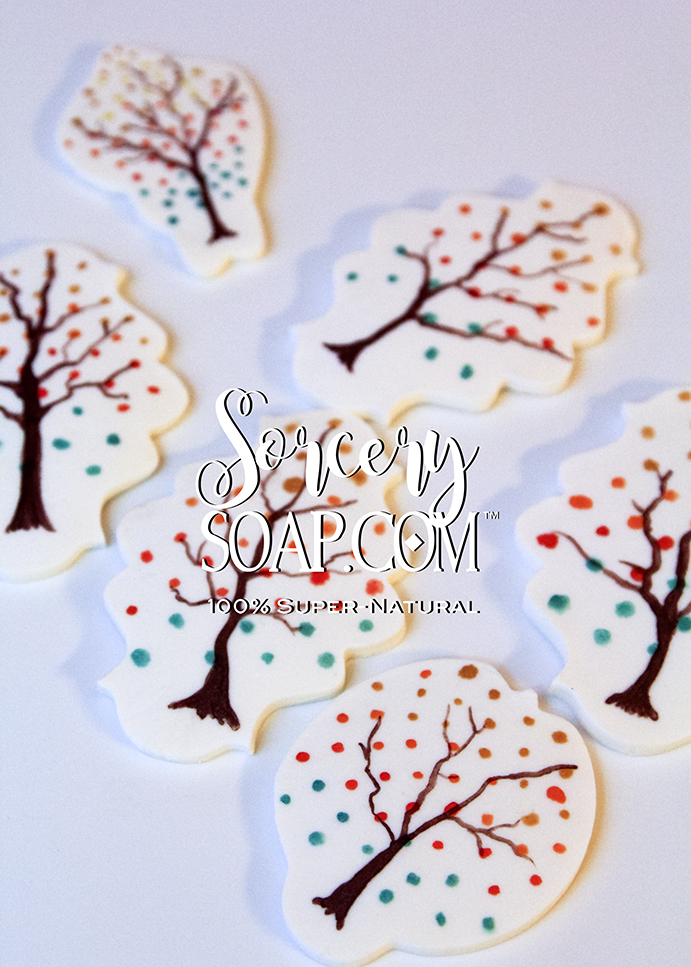 Sleep of Trees Autumn Soap Cookies; aren't the colors gorgeous? 
What do you love most about creating bath and body products?
The opportunity it has offered to connect with others in the soaping and bath community. They are some of the most creative, kind humans I have had the pleasure of meeting. Truly, I'm astounded regularly how kind and supportive the soaping community is as a whole.